VIOLET AT THE BRITISH SCHOOL OF OSTEOPATHY AS A PATIENT
Violet started attending the British School of Osteopathy in 2000 as a patient when her mobility was very limited.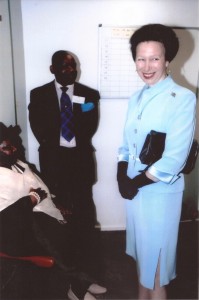 Her mobility was so poor that she needed treatment on the ground floor of the school at 275, Borough High Street, London SE1 1JE as she was unable to leave her wheelchair to access the first floor treatment rooms usually for general clinic appointments. The students and tutors at the school were exceptional. Their treatment plan was very effective and it made a difference to Violet's mobility. By 2007, Violet could walk to the lift and to the treatment rooms.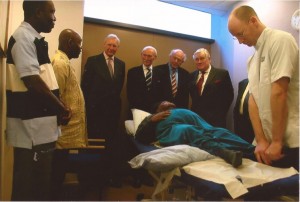 Because of the work of the students and supervision of the tutors, and Violet's determination, interest and cooperation, David (Omotayo) was so grateful in seeing the difference and improvement in his mother. He acknowledged all who cared for Violet at her 90th Birthday celebrations at the Methodist Central Hall Westminster in November, 2006 by saying " I hope more people are able to find out what the BSO can offer them, well done BSO – keep doing what you do" Violet, was one of the patient community representatives at the opening of the school's New Clinic on Southwark Bridge Road on Wednesday 21st May 2008 by HRH The Princess Royal. Violet was accompanied by her son David (Omotayo) who kindly allowed the school to tell the media about the school's work with her and the difference it made to her mobility. The principal, tutors and students were all overjoyed to see Violet's mobility improve to the extent that she was able to walk the entire 30m length of the clinic having been a constant wheelchair user prior to treatment. Violet was introduced to HRH The Princess Royal who spoke briefly with her about her treatment.
Violet, being the oldest and long standing patient of the BSO aged 92 years, was the first patient to be treated in the newly-named Metropolitan Lodge of London Freemasons Treatment Room as part of a special naming ceremony held on Wednesday 14th January, 2009 at the BSO Clinical Centre, on Southwark Bridge Road. Violet also helped accept a cheque for £5,000 for the BSO from the London Masonic Charitable Trust on behalf of the Metropolitan Lodge of London Freemasons.
On Monday 10th December 2012, at St. George the Martyr Church, Borough High Street at "An Evening of Carols and Loving Memories" organized by the BSO, the vicar mentioned Violet in his prayers.
Violet in gratitude to the school, made a generous donation toward the New Clinic Appeal.
It was always Violet's wish that the work of the school and its services will progress and that the research will continue.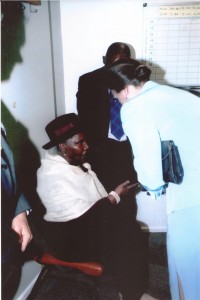 If you would like to find out more about the BSO and how you can help, please contact
THE BRITISH SCHOOL OF OSTEOPATHY
275 BOROUGH HIGH STREET
LONDON SE1 1JE
Donations
The British School of Osteopathy
Thank you from The British School of Osteopathy