MR JAMES AUGUSTUS ERUBAMIE ROBERTS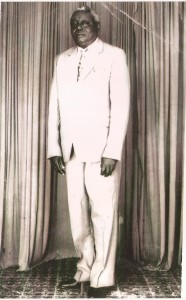 James Augustus Erubamie Roberts  (commonly known as Pa Roberts or Papa Eru) was born  on the  20th September 1915 to Madam Abigail Crowther and Mr. Awe Roberts Snr. of Hastings Village.
His maternal sisters were: Georgiana and Modupeh and paternal sisters were: Ebilola, Sarah, Josephine and Ekundayo.
He attended the Cathedral Boys primary school and then went to the Albert Academy in 1927 with the help of his beloved godmother –Madam Beatrice Abiodun Nicol who paid for his secondary education.
He did crafts and woodwork at the Albert Academy and on completion in 1932, he made a special table for his beloved godmother in gratitude for her contribution to his education. The family of mama Nicol treasured it and  kept it safe until the civil war broke out in Freetown in 1999 when it was destroyed.
On leaving school, he worked at the Sierra Leone Railways (Cline Town) for over 40years. He rose to the rank of Foreman of the Fitting Shop. In that position he had 150 men who worked directly under his supervision. Some of them where grade "B" and "C" artisans while a few were labourers. The Fitting Shop was responsible for receiving parts and assembling the engines for the trains after which they were tested and sent to the Carriage Wagon Shop. His signing off on completion of any engine was a guarantee that it was a good product. He was a very meticulous man not taking anything for granted in whatever he did. He retired in the early 1970s. In addition to his employment, he ran a business buying and selling ladies hats. He was a ladies' man.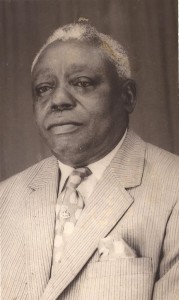 He courted Sisy Onike and had two daughters namely: Omodele and Omojoko.
In the early 1940s, he started dating Violet Adjaie Josephine Metta Bultman. In January 1943, they had a son who was named Olufumi. They continued dating and in March 1949, they had another son and named him Olushola.
James Augustus Erubamie then decided to commit to Violet Josephine Metta Adjaie Bultman and they married on the 31st January, 1951 and were blessed with four other boys:-  Tekpa-Moshe, Adekunle, Omotayo and Bamikole.
Papa Eru was very socialable and also active in church. He held many offices in his church – Truscott W A M Church, Kissy Road in Freetown. He was Senior Society Steward, Member of the Board of Trustees, served as the Connexional Finance Secretary of the West African Methodist Church of Sierra Leone for many years and was President of the Methodist Local Preachers Mutual Aid Association of Sierra Leone. He was also a member of the Class 2 social club in Freetown.
He tragically died in a road accident on Friday 29th March 1985 on his way to the Class 2 Club at Kissy Road. He was laid to rest on Sunday 7th April,1985 at the Kissy Road Cemetery after a Funeral Service at Centenary Tabernacle WAM Church.
He was a loving father, grandfather, uncle, cousin and friend.  He is fondly missed!
MRS VIOLET JOSEPHINE METTA ROBERTS
Violet Josephine Metta Adjaie (fondly known as mama Adjaie or mama Roberts) was one of nine children. She was born on the 19th November, 1916 to Sybilla (Nee Thompson) and Sylvanus Bultman of Charlotte Village in Freetown, Sierra Leone.
Violet's  siblings are: David, Claudius, Lucinda, Kainde, Taiwo, Eric (Dowuboy), Matthew (Alaba) and Hector.
She attended the Cathedral Girls Primary School and left on completion of class 7 (Standard 6) as her parents were unable to afford her secondary education.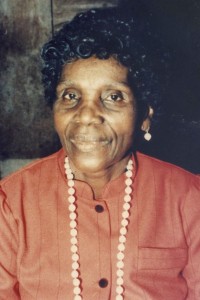 Her mother – Sybilla, was a seamstress. Violet helped her in sewing petit coats (sheme) and other items such as baby clothes and pillow cases and went to Songo Village to sell. Her father – Sylvanus, had a vast  plantation of all types of fruits, vegetables and poultry. During harvest season, Violet would carry baskets full of mangoes, oranges, etc. from the farm yard to the bus station at the top of the hill  at Charlotte Village to sell. And at festive times, after the pigs were slaughtered, she would sell them to neighbours as directed by her parents.
Violet first married at a young age to Mr. Samuel  J. Taylor commonly called "Sam" of Charlotte Village and that marriage was blessed with two children – ALWYN AND OPAL (BABYLOVE).
Being married at a young and tender age, things did not go as expected and the marriage ended in  divorce. With her two children (Alwyn and Babylove), Violet worked hard to give them what was considered at that time to be her best. She had to go further afield to Rotifunk to trade in order to provide for her children and herself.
In the early 1940s, Violet met James Augustus Erubamie Roberts and they started dating. In January 1943, she had a son who was named Olufumi. They continued dating and in March 1949 she had another son, named Olushola.
Erubamie and Adjaie then decided to commit to each other and on the 31st January, 1951 they married.
Their marriage was blessed with four other  boys namely: Tekpa- Moshe, Adekunle, Omotayo and Bamikole.  In addition to her own children, she fostered Modu, David and Emmanuel. She also looked after her nieces and nephews.
Violet worked as a bus conductress for the Road Transport Corporation in Freetown for eight years but left the job because of the ungodly hours and health reasons. She was nicknamed "Auction conductress" because she placed her job on the line by showing compassion to those who did not have the fare.
Violet was very industrious. She was a trader and sold provisions, coconut cakes and clothes she sewed. This helped her to provide for her family and to give her children the opportunity for full education which she never had.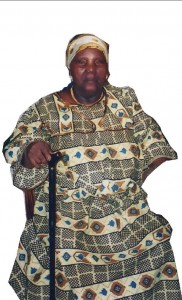 Violet was a devout Christian and believed in the  Lord. She held many offices in the church, circuit and connexional levels. As a member of Truscott WAM Church, she served as Church Steward, Class Leader, member of Sisterhood, Treasurer  of the Poor Fund (Benevolent Fund),member of the Women's Connexional Auxilliary, representative to the Annual Assembly of the West African Methodist Church  in Sierra Leone. She was also a member of the United Church Women of Sierra Leone.
For her devotion and dedication she was honoured as "THE MOTHER OF TRUSCOTT W A M CHURCH"
In her community in Freetown, she was the "Mother Teresa" who looked after and helped those in need. She was greatly loved.
After spending four months in Banjul – the Gambia, following the invasion of Freetown (13 years of Civil War in Sierra Leone), she travelled to the United Kingdom in June 1999 to join Omotayo.  She transferred her church membership from Truscott WAM Church to the Methodist Central Hall Westminster in 2000. She worshipped regularly at the Hall and was loved by all. Even though she was unable to physically take part in the activities of the church, she made sure that she supported financially and attended Holy Communion services to the end of her life.
Violet was a philanthropist, a peace maker and soft spoken.
Violet was 93 years old when she was called to rest on the 1st December 2009 at her home. A service of celebration of her life was held at the Methodist Central Hall Westminster on Tuesday 15th December. Her mortal remains were repatriated to Freetown, Sierra Leone on the 18th December. She was finally laid to rest in Freetown on Sunday 20th December 2009 at Kissy Road Cemetery after a Funeral Service at Centenary Tabernacle WAM Church, Circular Road.
Your memories are ever present. Rest in Peace!